In writing about bin Ladens death, I realized that part of my rage at al-Qaeda is fueled by people and elements of the media that are all for appeasement.
There is no appeasing jihadis unless you're willing to convert to Islam, have your wives and daughters cover themselves and submit to a theocracy where brutality is the norm.
If you're willing to sacrifice everything that we as Americans are then I suppose appeasement is a choice.
For me, for a variety of reasons appeasement is completely off the table. I realized shortly after 9/11 that while I was too old to serve in the military, I still needed to make a decision about where I stood.
Admiral Yamamoto in the early days of World War II counseled against a Japanese invasion of America. He said if Japan tried to invade America there would be "a rifle behind every blade of grass"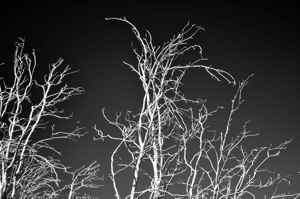 Ghost Trees (c) 2010 David Kendal
I believe that we should make sure he was right.
I decided that if it came to a "Fifth Column" in America, or an invasion, or God help us appeasement under the threat of some nuclear or biological threat, that my only choice would be to fight.
I suppose it's my Northern European roots. Something in me says it's better to go out with a weapon in my hand and dine in Valhalla than to be led submissively to slaughter like a sheep.
Perhaps in that way, I'm no different from the 15th century beliefs that fundamentalist Islam preaches…
I'm still a barbarian from the North.