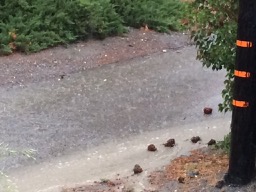 Yesterday was pretty darn amazing.
We had the hardest rain we've had since I can remember. The rainfall seems to have been about 3 inches per hour and we were lucky that it didn't rain the whole hour.
It was torrential, with thunder and lightening and even a little bit of hail at one point. I'm glad I didnt' have the car washed before I came up to the mountains.
There was so much so fast, that the flood control channel (Which used to be a nice creek) was cresting it's banks. That doesn't sound very impressive until you realize that the channel is 50 feet deep and at most point at least 100 feet across.
The whole house was shaking like there was a train going by and huge rocks were tumbling by.
Throughout the town dry creek beds were suddenly full again. Rocks and debris was scattered everywhere and I couldn't help but think how quickly nature could reclaim the area.
That was us in the mountains, down on the valley floor to the north, they got the 3" of rain per hour, a full hour of rain, and then they got the runoff from the mountains. So for them it was a double whammy.
The bridge is out on one of the roads connecting my end of town to the rest of town. Road crews have, as always done a great job of clearing the debris. It's going to take a while to put the bridge back in order, even now I hear the distant beeping of the heavy equipment working down there.
It's a pity that we can't save all the water. Of course you'd need huge settling ponds to allow it to seep into the ground That would probably be impractical, but it does seem such a waste given the ravages of the drought up here over the past five years.
Even though it was raining so heavily, I enjoyed the show. I like the sound of rain on the roof and the occasional rumble of thunder. I'm not sure I like the ground rumbling due to boulders washing down from the mountainside. The dog really doesn't like that sound.
This morning the air is crisp and clean the temperature is very comfortable and the humidity isn't as unbearable as it was.
It's the "Goldilocks" time that happens after a really good storm.
I'm planning on enjoying as much as I can until I have to return to San Diego.
And I got a free car wash out of the deal. Thanks Mother Nature!