The new battery from newer technology that's in my computer is working out very nicely.
As they said on their web site, it took several charge / recharge cycles to get the full runtime out of the battery.
Not that there wasn't immediate improvement after the replacement. Initially my runtime went to 5 hours, now we're at about 7. Obviously that depends on what I'm doing.
The time will vary. But I've noticed a couple of other interesting things.  Microsoft Word is pretty energy efficient. BBEdit is also very frugal on its power usage. With a little experimentation I've found that I can stay on battery easily most of a standard workday, all I have to do is choose which apps I'm running carefully. For example, do I need to have Safari opening to an automatically refreshing news page while I'm working on other things? Nope! Do I need the full power of Word, when all I'm doing is scribbling down some notes that I'll later fold into a larger document? Nope!
In spite of the frustrations and challenges, I'd call the battery fiasco, a win. I've learned some things and am more active in my power management.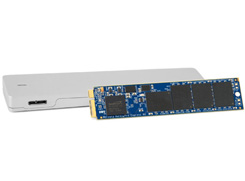 I'd love to test the claims of OtherWorld Computing regarding their 1 Terabyte solid state drive. They claim that the drive uses less power and is faster than the drive that came with my computer. I'm just not ready to pony up $450 to put their claims to the test.
The funniest thing about my desire for a bigger drive, is the staggering capacity that still remains on my current drive.
I clearly recall when I got appreciative "Ooos and ahhs" because I had a 486 Class PC with 80 MB of hard drive storage.
Now I'm looking at my remaining hard drive space, 150 GB and thinking, "Wow, I don't have much space left."
For that matter, I remember my first laptop got an astounding 2 hours of runtime on a charge. Now a two hour runtime signals the need for battery replacement.
It's interesting, how our perceptions change.