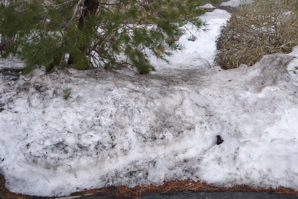 Weekend two of the snow players.
Sigh!
Yesterday wasn't too bad, but today as been a mess. One of the local forums describes the current condition of the snow, as "Ghetto Snow".
Ghetto Snow is snow that's a nasty combination of ice, dirt, and god only knows what else.
I know my dogs have added their own unique colors to the snow. <ahem>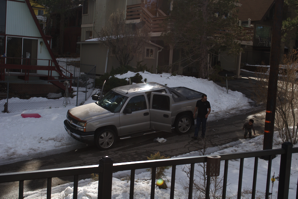 Today things are going too far. We've got people driving up into our neighborhoods onto side streets, (Streets that we've cleared in many cases BY HAND) then they start loading the snow, (OH, NOW YOU WANT TO HELP?) from our yards into their vehicles.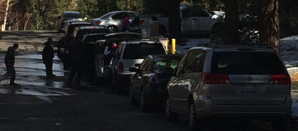 Yeah, they park half off the street, half in our yard, then start digging randomly in our yards with absolutely no idea what is under the snow, of course they're only interested in the clean snow from the middle of our yards.  All the while their kids are making snow men and having snowball fights elsewhere on our property.
WTF?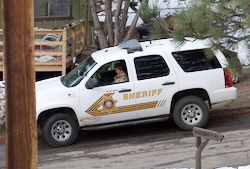 The sheriff and CHP are apparently hanging around just waiting to write tickets.Their response time has been absolutely astounding!
Either of those LEOs are welcome at my place anytime. I'll happily make coffee, hot chocolate and whatever other yummies I have on hand for them.
That's not an offer of bribery, that's me saying THANK YOU to folks whose jobs must be really tough to do, and me demonstrating my heartfelt appreciation for them doing that job.
I was standing on my deck taking pictures of yet another carload of morons who flew up my DEAD END street.
They race up the street only to slam on their brakes when they realize that they can't go any further and are in fact sliding backwards on ice into some random obstruction.

I've come to enjoy the distinctive high pitched whine of tires spinning on ice punctuated  by the equally distinctive "clunk-crunch-tinkle," of plastic and/or glass connecting with rocks or trees.

This particular car load of morons was lucky, their front tires found purchase on a small portion of pavement exposed by the last 25 morons spinning their tires in the exact same spot. But I made sure that the fat nasty chick who got out of the passenger side of the car could hear me laughing.

Anyhow, as I'm standing there, I see someone else snatching a shovel from my neighbors yard. They didn't ask, they just took it. I called out, they ignored me, I called out again and then my neighbor came out and started yelling too.
First, these people tried to act like they didn't know what we were talking about while holding the shovel then they acted like they didn't understand English. My neighbor stepped out the door and started down off the porch.
The shovel was run back over to the spot it had been removed from.
My neighbor grabbed it and locked it in his garage. The people all hopped in their car and drove away.
This is why so many of us are wanting access to the residential areas restricted. The problem is that it would take a ton of man power to prevent the snow players getting to the residential areas because almost every street opens onto one of the main arteries through town. The main arteries all connect to two bigger arteries that lead to the freeway.
While it would be easy to block off those streets, once people got past those choke points we couldn't control them throughout the town.
I love what happens when the Sheriff's Deputy pulls up. All these people scatter like cockroaches in a cheap apartment.
It's going to be a very long winter.
We wouldn't mind so much but people are just so damn ill mannered. They don't need to be in our neighborhoods or yards. There are places all over town specifically set aside for play.  The only reason people are up here is because they don't want to deal with the crowds in those areas.
---
I guess I could start charging for parking and assistance getting unstuck from the ice.
I wonder how much of a profit I could turn before an officer made me stop? I wouldn't be mad at the officer. After all, they'd just be doing their job and technically, I don't think I can charge for parking on a public street. Or for people to play in the snow that is on country property.
I wonder if I could charge what amounts to a toll? After all the street my house faces is a private street and since the county won't maintain it and the residents pay to have it paved; can I charge for people using our street? (I should ask some of my cop friends.)