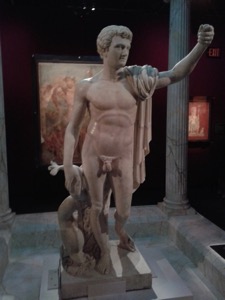 Though not without its price. I've apparently caught a cold or flu. I feel lousy!
Monday, we realized that the Pompeii exhibit was closing on the 11th of this month. We'd been meaning to go see it and for some reason thought it wasn't going to close until the end of Jan. OOOPPPPSS!!!
As things turned out there were tickets available for Tuesday, and we got in to see the exhibit. The only problem was the number of people who were stopping in front of each of the items in the exhibit then listening to the prerecorded message thingy while crowding in, to completely obscure the items being described.
There was a time when children and people in wheelchairs were given room to get close, so they could press their noses against the glass.
Those days are gone! Folks you're totally on your own. I had several really rude FEMNAZIS, (based on their attire, complete lack of courtesy, lack of personal hygiene and ample stink-eye toward any and all males,) actually shove their damn iPhones in front of my face so that they could take pictures.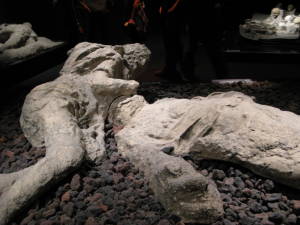 They were afforded this opportunity because I was maintaining space between myself and the display cases, allowing children to press their noses against the glass!
Had I been thinking I'd have snatched the phone(s) out of their hand(s) said, "Thank you" then walked away. These women were handing me the phones weren't they?
Nonetheless, I enjoyed the exhibition. I'd prefer to see Pompeii and Herculaneum "In Person" and perhaps someday I will.
I did find the exhibit a bit daunting simply because there was a ton of people in a very confined area. Picture the 405 in LA or I-10 in Houston, or the Holland Tunnel in NY, at 5PM. You know, a whole lot of people going absolutely nowhere!
I didn't bother to take any pictures. To get decent quality you'd have to be able to get to the exhibit itself (or shove your camera phone in front of someone else) then angle the camera such that the glare from the overhead lights reflecting off the cases wasn't obscuring what you were taking a picture of. In other words why bother trying to take photos yourself when professional photos of all the pieces are available online.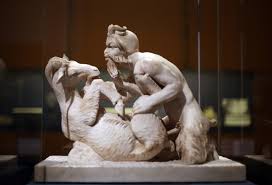 They had a VERY TAME representation of a brothel that they also allowed you to bypass lest you were easily offended. Honestly, there was nothing, and I mean NOTHING in that brothel that was more racy than you'd see any night on TV.
I expected polished alabaster or marble phalluses that had been used as sexual toys. The only representation of phallic art was a horny little fertility god, who had a small penis growing out of a larger erect penis. BIG DEAL! (I can't locate his image at the moment.)
This statue of what looks like a satyr having sex with a goat on the other hand, would have warranted a "Caution Parents, your children shouldn't see this!" warning. However, this statue wasn't on display in the LA exhibit.
I would have thought the casts of the bodies would have been far more disturbing, "Mommy, will that happen to us?" especially for children living in Los Angeles.
With the pointed explanation that earthquakes preceded the eruption of Vesuvius which then destroyed Pompeii, I picture that being of more immediate concern to a child than some goat thing wrestling with goat.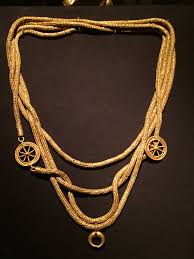 The glasswork, farm tools, cooking utensils, coins, and jewelry were impressive. The jewelry was beautiful work. The tools and cookware were as common and comprehensible as anything in my kitchen or garage.
FYI, the LA version of the exhibit was very minimalist.
I know from photos, reading archeological reports, and generally being interested in both Pompeii and Herculaneum that there is a surprisingly large amount of well preserved artifacts from both sites.
At a guess, I'd say the LA exhibit was far less than 1% of the artifacts recovered and catalogued.
Looking at the artifacts on display at the Field Pompeii exhibit, it seems that for some reason LA didn't put out all the artifacts that the Italian authorities provided. Perhaps this subset of artifacts was due to space restrictions. I'm somewhat disappointed, given the significance to archeology of this particular find.
One thing that was really interesting is the stark contrast in human achievement afforded visitors to the California Science Center.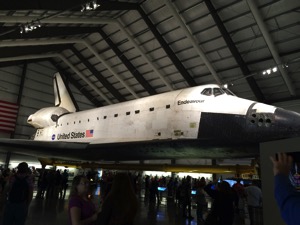 After spending 2 hours patiently waiting for people to move along so that we could see the Pompeii artifacts, we found ourselves in a section of the museum dedicated to space. Apollo, Gemini, and a wide variety of space probes were well represented. But the crown jewel was the Endeavor.
One thing that might have been particularly interesting would have been to place the Pompeii exhibit in the Endeavor's hangar. The contrast underscoring how far we've come, the skill of our hands, and our capacity for achievement might have provided food for thought.
For me exhibits like Pompeii are touchstones. Reminders, that our technologies may not have made us "better" only more technological. At our core we're still humans seeking solutions to everyday problems and dreaming of the next horizon.