Ok, by now everyone knows that I'm pretty Pro-Gun.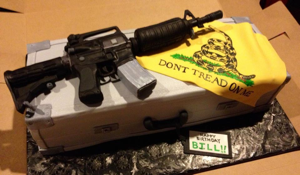 I was raised around guns and I owned a beautiful .410 from the time I was 14 or so. (that was a sweet gun which was later stolen from a relatives home… along with the gun safe it was in. Another Story)
I haven't to date replaced that sweet .410
While I'm thinking seriously about picking up a few guns before getting them becomes a nightmare of bureaucracy I haven't done so yet.
I can even have some sympathy for those people who sincerely believe that guns are out of control and who support legislation to impose control on guns, ammunition, etc.
But THIS STORY just really gets my blood pumping. Here's another article.
I've go no problems with the bakers who refused to make the cake in the first place. They chose to exercise their rights and they chose to leave money on the table. Their problem not mine.
Where I get seriously PISSED off is with the people sending hate messages to the baker for making the cake.
Come on people! There is no excuse to hassle a baker for baking a cake.
as Wil Wheaton says "Don't be a Dick"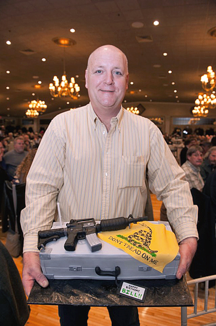 You have got to admit the cake looks fanfuckingtastic! It's a work of art and just plain cool.
YES! That is a birthday cake!
Heres a picture from the article of the cake being held by someone, perhaps the birthday boy.
Thankfully Yelp and Facebook have removed the nasty comments. The most benign were that the baker was "insensitive" and "ridiculing the tragedy in Newtown"
REALLY?
The baker was commissioned to bake a cake, that cake was defined by the person commissioning it.
The cake was also being given to a person that supports the 2nd amendment and presumably exercises his right to own guns.
There's nothing insensitive or ridiculing about it.
It's a fucking cake!
I'd bet the same people that were sending hate messages to the baker, play "Call of Duty", sit on their couches watching The Expendables, or Ghost Rider 2, or any number of violent movies or TV shows.
But they'll get indignant about a birthday cake. Can you say Hypocrisy good, I knew you could…
I could see my other half getting me a cake like this and telling me it's the only AR-15 I'll ever own. Yeah, the other half might draw the line at me getting an AR. I dunno I haven't asked.
I can tell you this, If I got a cake like this I'd be grinning from ear to ear, even if I couldn't have a real AR.
Head to the Bakers Facebook page and tell her she did great!