Yeah,
22F When I got up this morning. Looks like the Low may have been colder.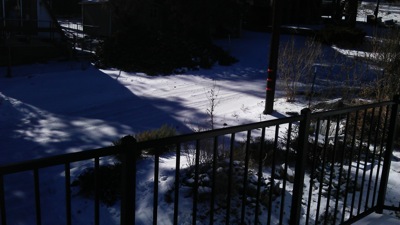 Got some more work to do in the office and It's good to be back in my own space again.There's a stack 'O shit piled in the middle of the desk that I need to sort through, but that can wait.
Still a slight glitch in that I've got more devices than I have place to set those devices. One of these is the photo printer which delays Christmas cards.
On the other hand I can always send them as PDFs via Email. It's not that I'm not thinking of my friends it's just that I've… well… mismanaged my time a bit.
A seriously good thing of note today is that I'm feeling better. A lot better!
For the first time in more than a week I'm a bit on the horny side. For a guy, that's the sign that we're healing and on the way the health again. For me, the first sign of being really sick is that I'm not horny at all. So this is a welcome sign if a bit frustrating.