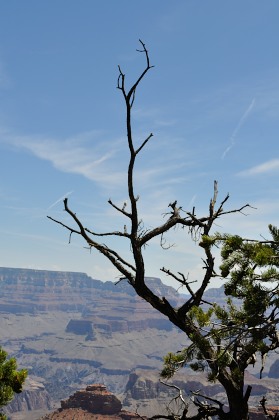 Home now.
Started the day off yesterday at the Grand Canyon.
Took some photos but I'm not very pleased with the results. Some days you have it… and some days you don't.
It was a long drive home. We ran into a couple of storms that were incredible. In addition it looks as though I'm going to have to have the front of the car repainted.
That's another blog post entirely, suffice it to say that water based paints on automobiles SUCK! (Thank you Kalifornia VOC regulations, and also many thanks to the unregulated gravel carriers running on California roads.)
I can say this. The car loves road trips and ran really well with the exception of 1 tank of marginal gasoline. It even ran well on 90 octane which i was dubious about.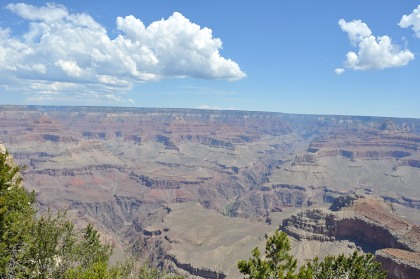 Now it's time to get busy cleaning up the aftermath of the travel and get on with the projects at hand.
I think I like the Grand Canyon in Fall rather than in the Summer. There are a couple of reasons.
First, the temp is a lot more comfortable. It was blazingly hot walking along the canyon rim.
Second there isn't a haze, or at least not as much of a haze. I'm thinking that the next trip out there will be in the Fall.
This morning it's cool here at home. The sky is grey and there's the possibility of rain. The other thing is that it's quiet and I'm enjoying the sounds of the birds and other animals around the place.
I do need to get busy with the weed whacking and several other gardening chores.
I also need to hang my dreamcatcher.
It's the first one I've ever had, given some of the nightmares I've had recently… I'm willing to give it a shot.