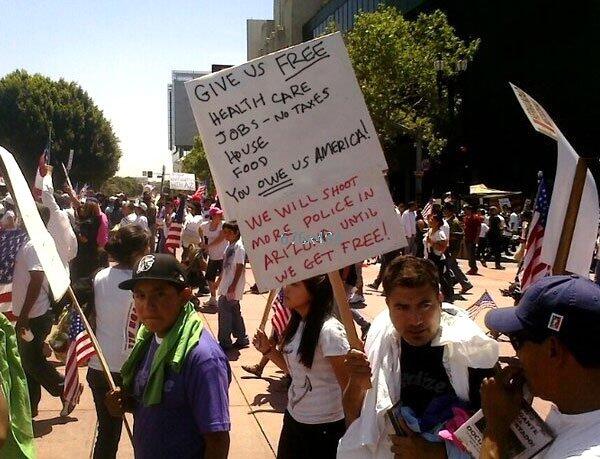 This image was tweeted the other day.
I'm posting it full size so that you can see what I'm talking about..
At first glance you think Oh Hell NO!
Anyone would because it's just so obviously wrong.
This is not what America is about. Most people would agree that America.. ie the American Tax payers don't owe anybody anything.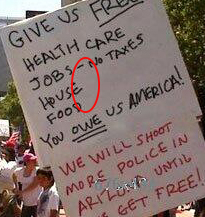 Certainly not Houses and certainly not under threat of force.
I didn't look at the image at full size and so didn't notice the artifacts that indicate the picture has been altered.
It wasn't until I was discussing the implications of the photo that I wondered if it was for real.
Well I thought… I've got that shiny new copy of PhotoShop let's take a look.
I downloaded the image, then I started really looking at it.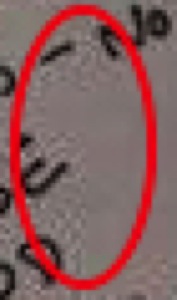 The artifacts were popping out all over the place. I zoomed in on the area in the red circle so I could show the evidence better.
See the smooth looking area? Thats where someone wiped out the rest of the text after House & Food
The grainy appearance around the letters is what should be there. It has to do with the jpg compression in the camera that took the original image.
The smoothing is evidence of an image editing tool like Photoshop being used.
Unfortunately without knowing where the image came from, there is no way to tell what the original sign said.
There's another artifact visible in the image if you look at the lower sign.
I'm really not sure what's going on there. It looks like a bleed through of something else but i'm completely in the dark on that one.
The point is…
Even though you see something, in the paper but especially images on the internet. Take them with a grain of salt.
I reacted retweeting and commenting on this photo before I really thought about it.
It was so damn offensive I went off like a shot.
10 minutes later when I thought about it and realized I had the tools necessary to evaluate the image. After I really looked at it, I realized that I'd been fooled.
I reacted exactly as the creator of this image wanted me to… I got angry!
So the rule is "Take a deep breath, try to confirm what you're seeing or reading, and then if you've come to believe the data is accurate take action."
I guess if all of us did that more often we might be communicating with each other better.
Have a great day and remember…
"Believe none of what you hear, and only half of what you see." – Benjamin Franklin