There is nothing funnier than the look people give you when they say "Contact me on Facebook" and you tell them you don't have a Facebook account.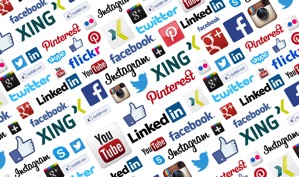 Or a LinkedIn account, Or Instagram, or Pinterest, or, or, or…
The inevitable reply is "But you're in Technology."
My response is "Yes, I am but I don't have to engage in a bunch of time sucks, responding to friend requests, posting comments, liking what someone else said, or anything else. People who really know me can text or call but I have no desire to deal with people I don't actually know in real life."
Yeah, I'm old school.
I've got a smart phone and I like it, but I don't want to be so into the unreality of the internet that I miss the reality around me, so I don't have or want any of those "Services" that suck up my day offering little to nothing in return. I sure as hell don't want to be so engrossed in my damn phone that I walk into a fountain, door, or a wall.
I read twitter sometimes, but don't have a bunch of tweets. I browse the newsfeeds but am trying not to dwell on the crap that is going on around the world. I can't do crap about it, and engaging in online discussions or "Causes" is rather pointless. I'll admit that sometimes I'll comment on a hashtag. #worstdateever or something similar is fun and good for a laugh. But none of this is an addiction anymore.
I'm over it, I'm trying to focus my attention on my life and what's actually in front of me.
I have a new chapter opening in my life and I've wasted too many days and too much time to keep wasting it with something that is the height of unreality.
Ya want to meet me? Ya want to have a drink, or dinner?
Call me, or text me.
I really do prefer, actually being in someone else's presence. I find a real person is much more fulfilling than some "ghost from the net" sitting behind their phone of computer screen 10,000 miles away from me.
It may not be the right choice for you, but I think it's going to work just fine for me.