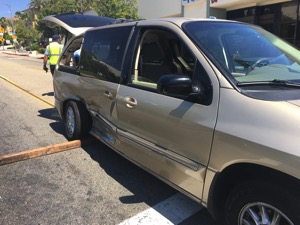 So I'm heading to the apartment in Escondido. After a long day, I'm looking forward to having something to eat. I come to an intersection, the light is green and has been for at least 10 -20 seconds. I proceed through the intersection and out of the corner of my eye is movement where it shouldn't have been.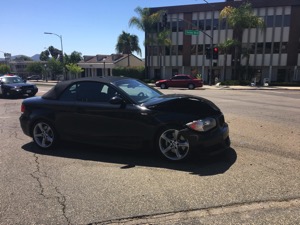 Suddenly, there's a van in front of me. I stand on the brakes but it's far too late. The laws of physics can't be denied.
I hit the van broadside The last thing I see is children, OH SHIT! I hit them. All things considered, I wish I'd been able to defer paying for the car repair… I only had my Wolf back for 3 days.
The van spins then turns over finally coming to rest on it's side. Facing the opposite direction from it's original direction of travel.  I see steam coming from under my hood, and have the presence of mind to shut the engine down, then count my bones. I'm facing about 90° from my original direction of travel.
SHIT!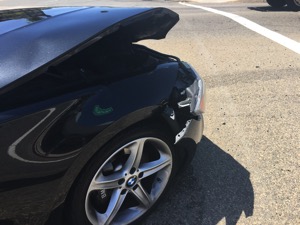 I see adults hanging from their seat belts. The children are also hanging in their car seats. I don't see blood so that's good.
I remember something about Moment Of Inertia and realize that the woman driver must have been really traveling. I find my phone, have to think about how to disconnect the phone from the hands free system. I dial 911 and a chirpy operator answers immediately.
"911 what's your emergency?"
"Uh I've been in an accident."
"Where?"
"Uh corner of Grand and Valley"
"Is anyone hurt?
"Not sure, we're going to need police, traffic control, tow trucks, and possibly paramedics."
"Are you alright?"
"I don't know, I think I'm OK but I'm not sure."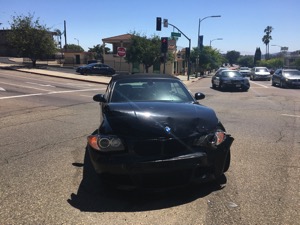 Internally, my diagnostics are running overtime. Systems aren't reporting in the way they should. I realize later it was adrenaline blocking pain receptors.
We are designed to remain functional despite severe injuries. Part of the design is to block pain until the fight is over.
A crowd has gathered. A guy signals a Thumbs Up at me. I shake my head yes. He moves to the other vehicle.
I get out of the car, I don't remember hanging up the phone.
The police arrive, a too young handsome cop asks me for my license, registration & insurance.
There is chaos, and some nice folks volunteer to me and the police that the van ran the red light.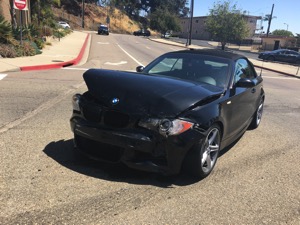 I think my wolf died today.
So I get to miss another day of work. I will never be able to replace my wolf with the current job. Hell, I probably can't replace the car with any car on the pay I earn. This is literally my worst fear of living in San Diego. People here drive like they're in Tijuana.
The driver of the other car was Spanish speaking only.  According to the police they are insured, so there's that.
It's been a couple of hours, now and I'm stiff and sore. Tomorrow will no doubt be a day of pain.
So now I get to clean up another mess, that I didn't create. And I'll suffer both financially and possibly lose my job over it.
I've been looking for another job anyway, but this will probably end my job on someone else's terms. Great!
This might be very very bad…