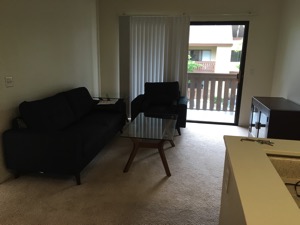 Well I've been up since 5am today. Grabbed a shower tossed stuff in the car, and high-tailed it to Escondido.
Where I accepted delivery of my furniture.
I really do like the "Shake & Bake" moving method! If you've got the money or a need (Such as you're leaving a household intact) This is the best way to go.
I've still got a lot of washing up to do, new plates, new pans, glasses etc.
No dishwasher. Ugh! But then again it's just me most, if not all of the time.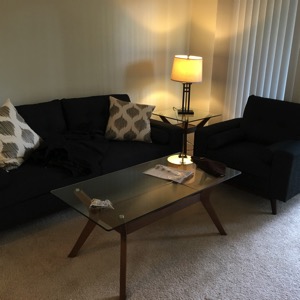 Not a bad little place. actually and it's a lot more homey now that There's furniture in the place. I need to get some plants, and / or little table arrangements to bring some visual interest to the place. But for two days work its not coming together too badly.
Not having assigned parking is gong to be a serious annoyance but perhaps not so much of one once I'm not carrying arm-fulls of stuff up the stairs and into the place.
So I've got a few things left on my list of stuff to buy. But once that's finished I'm going to be pretty much good to be here for at least 14 months.
Can't take any pictures of the bedroom right now because there's no light and the furniture just arrived a little while ago.
Internet should be here next Sunday so for the week I'm on my phone's hotspot.
Which means that my connectivity is likely to be in burst mode for the next week, however I'm going to be having so much new to deal with I'm figuring that I'm going to be intermittent anyway.
Fingers Crossed that this job thing works, otherwise I'm so screwed I can't even begin to describe the depths to which things go South.
Wish me luck I could use all the good JuJu you want to send my way.