I slugged my way down to San Diego, for a 30 minute Job interview. The trip took 3 1/4 hours. It's only 120 miles. Sigh!
The interview went pretty well, I'm hoping that I'll see some kind of an offer that I can take. I keep running the numbers, and it's gonna be tight. This is only doable if they're willing to pay me starting at the absolute upper end of the pay scale.
Perhaps there will be enough to keep all my finances from collapsing and if that's the case I'm going to count my blessings. There will be damn little to spare.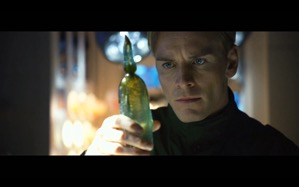 Long term this could be a break, allowing me to enter a growth field using my technology skills. I keep thinking of David in Prometheus "Big things have small beginnings."
Of course any company hiring me would probably not end in such a disaster as the Prometheus mission.
I'm chilling it at a Starbucks, waiting for the traffic to abate…
YEAH RIGHT! Like that ever happens anymore in Southern California.
I've decided that should I be offered a position, I'm moving down here. I can't abide 2 and 3 hour commutes anymore. I have zero desire to piss my life away sitting on a damn freeway.
So that's what's happening, for those of you wanting an update.