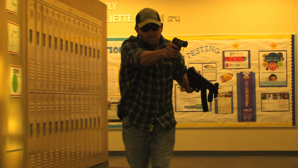 There was a very informative "Active Shooter" presentation by the Sheriff's department, complete with a pump shotgun being fired outside the building.
I'd never heard what one of those sounds like if it was outside and I was inside. The sound was far different from what I'd have expected. It was more of a thump-pop and the volume was low enough that if I'd been further away I might not have even paid it any attention.
And that's the point of training isn't it? It's one thing to hear the sound of a rifle, shotgun, or handgun when you're the one firing it with ear and eye protection. It's quite a different thing to be inside a building, hearing the shots outside or coming from another building.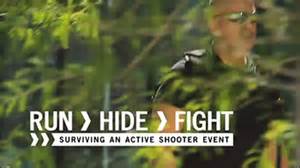 The officers were professional and awesome. I generally like our police, I just wish they'd re-open the substation here in town.  Right now they're 30 minutes away, so often by the time they get here whatever was going on is already done. The big difference is when the snow players are up then we've got a pretty good police presence.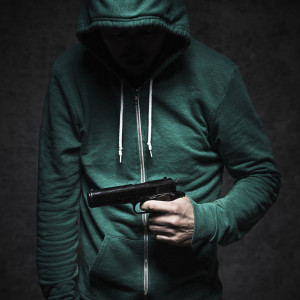 Active shooters aren't like average criminals. They're out to hurt as many people as possible and they're usually very young. I was shocked that the average age is 16.
Because they're out to hurt a lot of people, the police are going to engage quickly and will likely not be taking the shooter into custody.  The reason is, Active Shooters often kill themselves or do something that forces the police to shoot them.
If you get an opportunity to attend an Active Shooter presentation I highly recommend it.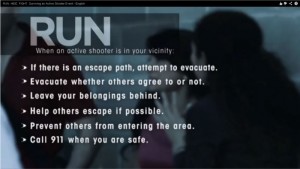 The main take-aways for me were confirmation that what I'd already been doing, was in fact prudent not paranoid.
1) Note exits (In fire, attack, flood, earthquake, etc. it's a good idea to know which direction is likely to get you out of harms way.)
2) Plan (Run a quick scenario of how you'd get to an exit in an emergency. Don't dwell on it, just note obstacles, and realize the closest exit may not be the "Best" exit.)
3) In an Active Shooter situation you've got three options. a) Exit / Escape, b) Hide / Shelter in place, c) Fight.
The thing I liked about the presentation was that the officers covered all three of the options in a pragmatic realistic way. They didn't dwell on Islam, or Schools, or allow the training be taken off into the merits of concealed carry.
They simply discussed what is known about Active Shooters. And gave some tips that may be helpful in surviving an event if you were to ever find yourself in a shitty situation.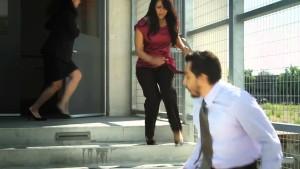 They talked about how to behave if you've been able to evacuate and come face to face with a group of armed officers entering the building. Easy answer… HANDS UP! Fingers spread, and do exactly what the officers tell you to do.
Don't fight, argue, or bitch about it. These folks have no freaking idea what they're walking into and have no idea if you're the good guys or bad guys.  That was useful to me because I'd be worried about running out of a building and spooking an officer then getting shot because I didn't know what I was supposed to do.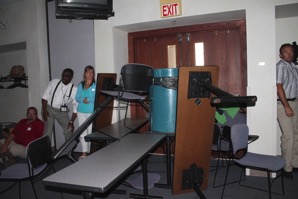 If you're hiding / sheltering in place, get into a space that can be locked. Turn off the lights and your phone sound makers, and be quiet. It seems that Active Shooters get into a predatory mode. So don't attract their attention in any way.
Shooters will typically pass by locked or barricaded doors because their goal is to hurt a lot of people. If a space looks empty and the door isn't easily opened they're not going to waste time, they're going to look for obvious and easy targets.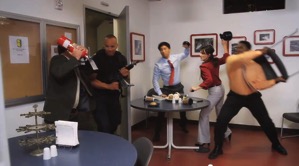 If you've got no choice FIGHT!  And when fighting your aim is to KILL you are fighting for your life and possible the life of your loved ones. All bets are off, there are no Queensbury rules.
Curb stomp the fucker if you can, severely fuck him up if you have the opportunity.  This person is no longer a person. Something inside them is horribly broken and there is no reasoning with them. Don't try talking, don't negotiate, they're not going to hear you.

Remember almost anything in the local environment can be used as a weapon. A heavy object swung with intent and force can do enough blunt force damage that the threat is neutralized.
The police were very clear, leaving is the first, best option.
Not getting into a situation is even better. If something looks strange, or someone is behaving strangely it's not paranoid or un-politically correct to report it.
A person might be acting strangely because they're having a medical event. Think about this, the sooner that person gets medical help, the less likely whatever is happening will kill them. If on the other hand someone is acting strangely because they're about to snap, then police intervention sooner rather than later may well stop a massacre.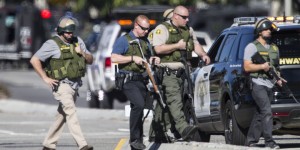 Either way, the right people get on scene to handle a situation.
The thing they left unsaid and that I inferred is after you've reported the issue, either person or unattended bag, purse, backpack, package, etc. Leave the area.
This ties into my "Time to leave the party" instinct.
There are times when things are starting to get out of hand, at a party, or event, and I'll just head to the exit. It's not that I'm chicken (I do have a well honed sense of self preservation), I just don't want to be involved in someone else's drama. I may stick around if the drama involves someone I genuinely like or care about.
Generally if someone has issues, those issues aren't my concern and I have zero desire to be sucked into the insanity.
So if I'm at a shopping center, or company party, or restaurant, and some craziness walks in the front door, I'm walking out the back, before the crazy spreads or the shooting starts.
The point is not to live in fear, and not to be paranoid.
The point is, be actively aware of what's going on around you. Have an awareness of your surroundings and have a sketched out plan of what to do if, God Forbid, there is some kind of emergency.
In view of all the information the police were presenting, I suddenly flashed on the whole New Years Eve debacle.  On the one hand I was glad to have the police verify that my normal operating behavior wasn't insane or paranoid.
On the other hand, I'd have loved to have the dumbass that kept repeatedly telling me I was a fearful paranoid dumbshit, duct-taped to a chair being forced to listen to this presentation. I'd like to do that only because I wonder how long it would take before his head exploded.
Then again, people like him would serve as distraction while I make like Elvis and… leave the building.