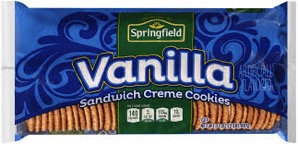 The other half came home with some serious junk food.
They are tasty and the other half justified the purchase by pointing out that these taste very good with berry flavored tea.
But the classic statement was;
"Besides, they were on sale."
Which apparently justifies the purchase of four packages.
I was reminded about a friend of mine.
His other half loved bargains. Shoes, Jewelry, you name it, if something was on sale it was in their house shortly there after.
Everything was pretty much fine until…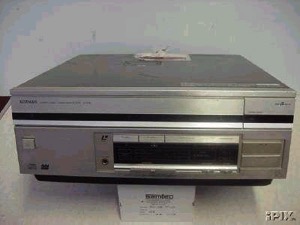 What has since become known within the US Government and NATO as;
The Luxman Incident.
I vaguely recall waking up, the day after Thanksgiving at my friends home.  I staggered to the kitchen following the smell of awesome coffee.
Ahhhhhh Coffee!
Then I smelled that distinct smell that comes only from New Electronics. The unmistakable smell of rosin, and board cleaning solvent. Then I heard the rustling of styrofoam, and plastic bags.
There, in the living room, was my friend looking like a kid at Christmas in the middle of cables and packing materials.
It was 9 am.
My friend had showered, shaved, gotten dressed, left the house, driven to Van Nuys, made a purchase, driven home, re-entered the house without disturbing the dog or anyone else and was in the process of having a geek orgasm induced by a new electronic toy.
My friend didn't roll around in the packing… His control was remarkable, (which is not to say he hadn't done this prior to my entering the room.)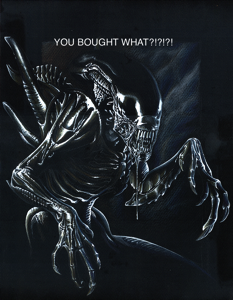 Enjoying my coffee, I was looking forward to watching Alien on this brand new LaserDisc player, later in the afternoon. (It's a Thanksgiving or day after Thanksgiving tradition, leave it at that.)
At which point… His other half came in and frankly lost it.
At the time, I wondered if I was watching Alien live!
I headed for another cup of coffee. I was not wanting to be drawn into this under any circumstances. Best to not be present.  My friends other half looked at me "Did YOU know he was going to buy this?"
"Uh Nope… where's the coffee? I'm going to put on another pot," continuing to the relative safety of the kitchen.
At which point I don't remember too much. I do recall the sound of fingernails on a chalkboard for about 30 minutes then it got quiet.
A few moments of silence and the opening sound effects of the score of Alien could be heard from the living room.
I looked around the corner. That now infamous opening line appeared on the screen.
In space, no-one can hear you scream.
Clearly a vacuum had opened somewhere between the front of the house and the rear of the house. I knew no-one had been "spaced" but there was some serious space in that house for the next day or so. I don't think they spoke the rest of the weekend.
It wasn't funny then.
Many years have passed, and I think it's funnier than hell now. My friend may not think so but I hope he takes it good-naturedly.
Of course this is the same friend that gave me the single most EPIC ass chewing I've ever received. I deserved every word of it. I was an asshole!
I'm hoping that I'm not cruising for another EPIC ass chewing with this post.
It's strange how memories are linked in our heads.
My other half saying "They were on sale," as I was trying to rearrange the pantry to accept a 3 cubic foot block of cookies, put a smile on my face and allowed me to relive that "Black Friday".
My friend has a much lovelier person as his wife now. She's awesome, I genuinely like and respect her. She brings out the best in him, and the imp in me.
(I love trying to shock her and watching her reboot for just an instant when she processes that I really did say what she thought, but never imagined, I'd say. In truth because she's made my friend happy and truly loves him, well don't tell her, but I'd do anything in my power for her.)
I'll throw myself on her mercy if he's really mad at me.
I should point out that I'll buy her mercy if necessary with tales of a blue Mustang, a green Monza and a certain church parking lot!
It pays to be a very old friend to someone, you know literally ALL their dirt.

Ahhh Chooo!

What was I saying? What Mustang, I'm not a church going person, what's a Monza? I'm so old my memory fails at the most inopportune moments.
Cookies or over priced bedazzled sweat shirts.
I'll take the cookies and funny memories.