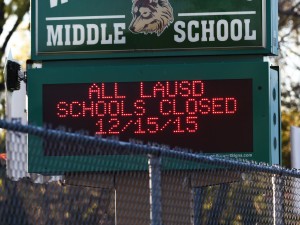 In the wake of the San Bernardino shootings, now LA Schools are under threat. San Bernardino Valley College is closed as well due to a threat.
Tell me again why is Trump wrong saying that we need to temporarily stop immigration from muslim countries?
Tell me again how there is no threat.
Tell me how efficient our vetting process is.
Tell me again how crazy Republicans are when they say we need to implement control over our borders.
Tell me lovely platitudes and stories about unicorns and rainbows.
I'm expecting CAIR to blather on about how Islam is a religion of peace. I expect Stompy Foot to tell us that we're safe here in America and immediately after the words leave his mouth some insanity will unfold.
Just because Trump is strident, in your face, and direct, doesn't mean he's necessarily wrong. We really need to get back to listening carefully and thinking for ourselves.
I'd be happy if common sense made a comeback.