At first I was in complete disbelief about the Texas school acting like they had a 14 year old bomber.
Then this picture showed up, and I was sure that not only didn't they have a bomber, the texas school district and police also didn't have a "Whiz Kid" either.
I Call BULLSHIT!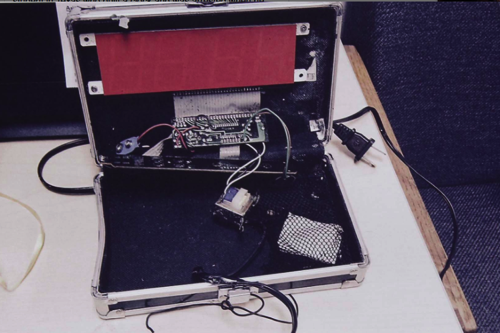 The large RED rectangle is a standard LED. Available in almost any digital alarm clock
The little square in the foreground is a standard transformer.
The greenish rectangular board is a production quality wave soldered board. (The kid didn't make this). And the kid didn't do any of the soldering
There's a long board between the transformer and the what I take to be the main logic board. This appears to be a control board, most probably for buttons and switches required to set and control the clock.
The 9V battery connector is, I'm betting for a backup battery.
Sorry, this kid didn't build anything. He gutted a standard cheap bedside alarm clock, then mounted the parts in a small box.
BIG DEAL!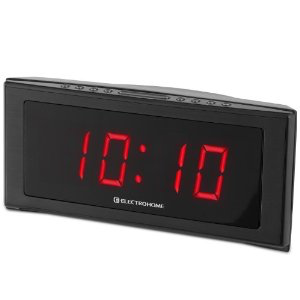 The kid didn't solder one thing, he didn't etch those boards, he didn't create or build anything. It even looks like he kept the plastic strain relief on the A/C cord.
Initial reports said he showed this to a shop / or engineering class teacher.
I don't care if the teacher was unable to identify this kludge, surely the teacher recognized that there's nothing explosive here.
The question is what was the kid trying to do? Was he trying to impress the teacher for some reason? If the teacher was in fact an engineering teacher SHAME on them for not recognizing they weren't looking at a kit or homemade circuit boards.
I'm looking at a photo and easily see the evidence of manufacturing and standardization.
It's probable the original mechanism looked a lot like the photo at right.
Just because the mess is electronic it doesn't mean that the kid is a genius!
Now this kid's getting job and college offers and being invited to the White House!
Really?
If I'd only known, I'd have splayed a computer across a briefcase and gone to MIT on a full scholarship years ago.
Don't misunderstand, I applaud the kid's curiosity.
He should be encouraged to learn how to really build electronics and put stuff together. I saw one twitter account that offered the kid some "Educational electronic kits". That's constructive…
People falling all over themselves, gushing about simple transplantation into a new case is not.
There've been several articles reporting that the school, due to it's Zero Tolerance Policy, had no choice but to report "Suspicious" articles students bring to school.
So, everything that followed from the point of him showing the device to a clueless teacher, was programmed by a policy based in absolute mindless following of rules, instead of common sense. Which means that the kid's arrest was not about race or religion, it was simply procedural. I generally hate Zero Tolerance policies, in this case, perhaps the policy highlights an issue.
Apparently there is more to the story now.
The kid is changing schools, it seems that his father is a sometimes candidate for the presidency of Sudan, and a constant voice in the narrative about islamophobia.
All of which calls into question this whole event.
I don't believe for an instant that the kid did anything creative here. I wonder if he was just trying to rattle cages. Reports say that he was told by the "Engineering" teacher not to show this around. Okay, why didn't that teacher simply say "Hey, leave this here with me and pick it up at the end of school." That would have solved any number of problems, but it also would have required that the teacher accept responsibility.
Oh yeah, in this world, acceptance of responsibility is strictly forbidden.
My Bad!
---
Since I started writing this piece there've been several other pieces written which have debunked the narrative of "Brilliant Whiz Kid."
I also find myself unable to refrain from pointing out the rather large elephant in the room.
In the Middle East IEDs are commonly built from re-tasked devices. Is it Islamophobia to point that out? Is it Islamophobia to say the school may have acted properly and with caution?
Originally, when the first reports were blaring across the airwaves, I though "Oh God, Texas you've got to be kidding"
Now, I think the school, and LEO acted completely within reason.