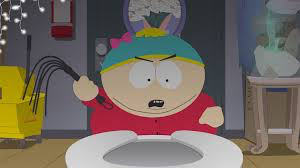 It's been raining since about 4:30am here.
The sound of rain on the roof isn't what woke me. I was already up tending to an ailing dog and punishing my plumbing due to something I ate.
I think the dog appreciated the company, I on the other hand, would rather have been asleep.
If you're not a South Park fan, the image wont make any sense. I'm not going to explain it, I'm just going to leave you wondering.
In any case it's raining! Yipee! There are puddles in the yard and if I didn't feel so rotten and tired I'd be tempted to go outside and play in them.
I don't think I'd be naked… There are just too damn many people around here who might take offense. I miss the old days, when we had houses near us, but no full time neighbors. I'll leave that to your imagination too.

We're under a flood advisory, until 11 am. Or so says the weather thingy.
I've got this nifty little weather application on my computer, the best 4 bucks I've spent in a long time. Although in CA the application doesn't have a lot to do. "Sunny and hot" was it's only message for months.
I thought the thing was broken for a while till I remembered that California weather is really that boring. I'm exaggerating. A little…
I don't have to worry about flooding here, but it will be a problem down in the flatlands.
Honestly I'm too tired to really worry about it. I've been napping off & on all morning. The dogs are snoring and the rain is tapping on the roof. It's quiet in the neighborhood and in the house. A lazy day to be sure, but one that is sorely needed.
I'll have to get my butt moving soon, but not quite yet. I hope your day is as peaceful.