OMG!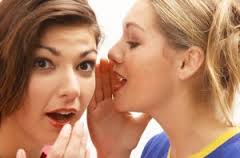 A gaggle of 4 shrill women in a Starbucks who are completely oblivious to the fact that they're practically screaming within 3 feet of me.
I'm pretty obviously trying to concentrate on what I'm working on and yet that doesn't matter to them.
I'm treated to their pregnancy, doctors, and patient experiences all the while they're screeching in that excited high pitched annoying voice that women get when they're all excited at being able to gossip with each other about people that aren't present.
Even as I write this at least one of these rude women is reading what I'm writing over my shoulder.
I have no expectation of privacy in a Starbucks, but I do have at least a slight expectation of decorum.
I'm leaving, my coffee is finished and honestly, even if it wasn't I'd be bailing because this is annoying as shit! I thought the guy who was trying to crawl under my table to plug his piece of shit Windows Laptop in was annoying.
I guess it goes to show that people can always sink lower than what you thought was the bottom of the barrel.
---
I wasn't entirely clear about why this encounter with these women was so distressing.
I can tell you the last thing I wanted to hear about was those women's episiotomy experiences or the vigor with which their afterbirth was expelled.
Women say Manspreading is a problem…. I'd say Gynospeak in a public venue where people are trying to eat is a more realistic and devastating issue.
As men, we typically don't describe all the issues surrounding our annual prostate exams, nor do we in detail, discuss our preparation for a colonoscopy, in a restaurant. It's just bad manners and puts everyone off their meal.
I've never understood why so many women seem to think the world needs to know all the details of their medical exams or childbirth.
Keep that stuff private, between you, your doctor, and your spouse.
I don't need gothic images of husbands covered in blood because they were at the wrong place trying to be supportive as you explosively ejected afterbirth.
In particular I don't need that image while I'm eating my meatball marinara sandwich…
Let that one sink in just a bit…
This has been a Public Service Announcement, you fucking feminist harridans!