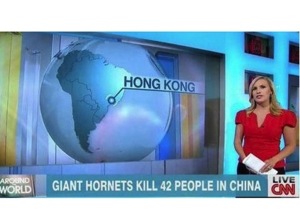 The most trusted name in news…
HAHAHAHAHAHAHAHAHAHAHA!
These are the people who spoon feed the masses daily news which in turn low information voters use to make decisions about who to vote for.
I long for the day when the news moved slower, and the journalists were interested in FACTS, not spin.
With the internet at our fingers, it's nothing to see an article on Brietbart, Fox, The BBC, Le Monde, or Deutsch Welle, and think, "That sounds fishy" then track the story to its source.
It's not uncommon for there to be some spin in any article due to the journalist's own beliefs. The question is, has the journalist allowed their bias to skew the story in such a way as to misrepresent the actual facts.
CNN, MSNBC and the main stream media have allowed their biases to completely overwhelm many of their stories and almost all of their reporting.
That's bad enough, however it gets worse. Their editorial staff is more concerned about their dismal ratings than journalistic integrity, so you get un-vetted, questionable reporting at best, and worst (or in CNN's case normal) they place Hong Kong where São Paulo Brazil is.
As a blogger, I don't have high journalistic standards to uphold. I get the luxury of doing nothing but Op-Ed pieces, I do basic checking and try very hard not to froth at the mouth.
I try very hard not to say something entirely stupid even if I'm only a blogger expressing my opinion.
I always do my best not to drool stupidity on the keyboard.
CNN apparently needs a bib.