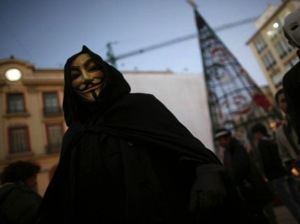 Or is it just me?
Saw this headline on Breitbart and blew ice tea out my nose.
"Hacktivist Group 'Anonymous' Plans Cyber Warfare against Countries that Support ISIS"
Really!
The reason i blew ice tea out my nose is that ANONYMOUS is, for want of a better term an Anarchist group that our government calls "Terrorists" on a fairly regular basis.
I find it ironic beyond belief that this "Cyber-Terrorist" group is doing more than our government to shut down ISIS.
Hell, if I could help Anonymous I probably would.
This is a completely amazing turn of events and I totally applaud Anonymous in their efforts.
I hope they remember to take out CAIR while they're at it.