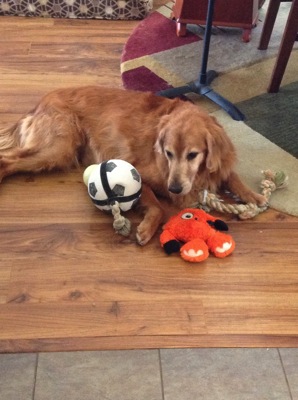 We made it official on Tuesday.
We adopted the R dog. He seems to like the place and the toys.
On thing that is very nice is that while the S dog tends to leave toys all over the place, the R dog tends to collect them into one place.
Does anyone notice an agreeable symmetry?
Training continues. Walks are less of an ordeal for all of us. The R dog is stronger, his paw pads are toughening up and he's less mindful of some of the new scents.
He's trying very hard to please. He still doesn't like to go out in the back yard without the whole pack being in attendance. This will present a challenge in the wintertime when I'm not going to feel like hiking in the backyard at -20F
In general he seems happy. His elbows are healing too. He had rough skin patches that dogs get from spending too much time on concrete and not enough time on grass, dirt, or other softer more natural surfaces.
As part of the adoption we found out a lot of other stuff we didn't know about him and that knowledge is playing into who he is and how we train him.
The other half is happy again and enjoys being greeted with a happy woof.
While I've been essentially the soccer mom, handling the day to day issues of walks, feeding, poo patrol, and training. The other half is getting to be "The Fun One".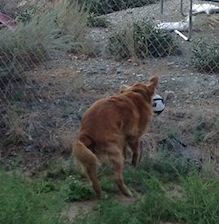 Which isn't to say that the R dog and I don't have a connection it's just that I'm not always FUN!
It is nice to come out of the shower and have both dogs guarding me. Even if that means that I have to step over them to get out of the bathroom.
10 Seconds of preaching.
I know that puppies & kittens are cute and cuddly and that you don't have to undo someone else's mistakes. But please, before you decide on buying that puppy or kitten in the window, check out your local animal shelter. Contact a rescue organization for the breed of dog or cat that you're interested in.
There are a lot of sweet, well behaved, and honestly deserving dogs & cats who need good homes.
End of preaching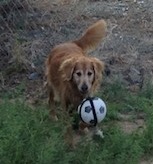 The last 2 dogs came from the animal shelter. The R dog came from a retriever rescue. We're members of that rescue and as soon as the R dog is fully integrated and settled in our household, we'll be opening our doors to another homeless dog.
That one we will be fostering, training, and loving, and then we'll pass him or her on to another loving home.
At least that's the plan…
But I'm a big 'ol softie when it comes to animals.