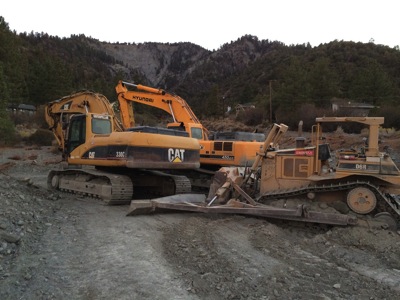 The construction going on in the wash near my home is taking a bit of a toll.
In addition to the dust, and that I can't take the dogs for walks after 7am or before 6pm usually I just noticed that I really sleep late on Sundays.
Sunday is the only day when the steam-shovels and bulldozers aren't rumbling and growling to life first thing in the morning. The noise of work crews arriving and heavy diesel engines firing up usually starts sometime around 6:30am
My morning coffee is then accompanied with shouts and the ground vibrating as the steam-shovels are wrangled into place for their days work.
It's easy to forget how quiet and peaceful the mountain is with all the construction.
I will say the crew is doing their best to not be terribly obnoxious but when you have 2 large steam-shovels (an anachronistic term!) at least one bulldozer, a couple of backhoes, and several skip-loaders plus at least 3 large water tankers running up & down a little over 1.5 mile stretch of work area…
Well it's going to be noisy.
Add to that the intermittent sounds of wood chippers and well you might as well be right in the middle of Manhattan.
It's on Sunday when we all take a sigh of relief. This morning I woke up late, but it was to the sound of birds in the trees and leaves rustling in a gentle breeze.
Monday it starts all over again. I'm planning to be out of the house for the day and hopefully in the cacophony of a Starbucks before the steam-shovels start moving.
Yes, I still have cash on account at Starbucks. I was disappointed that Starbucks broke with their traditional stance of neutrality over the gun debate. My inclination is to use up the remainder of the money on account and not renew. Its' not about guns per-se but about Starbucks moving away from their neutral stance on the matter. So I'll make the decision about continuing to do business with them when the account runs dry.
Until then, they'll be serving me my damn cafe mocha!