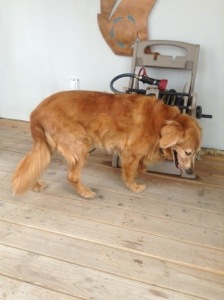 This is our new foster "child".
He's been in a house in LA.
His owners were getting on in years and their health wasn't up to looking after a dog anymore.
To their credit they decided to place the the dog in a retriever rescue, and we're his new foster parents.
Thus far the S dog has been very good and patient.
The foster child is freaked out by the sights and sounds of the mountain creatures.
Being a city dog his paws are very tender and the ground having "rocks" seems to puzzle him.
Walks will be of limited duration until his pads toughen up.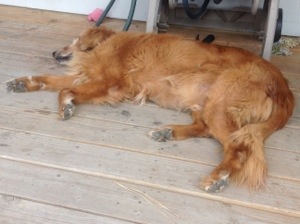 Generally the Foster child seems well behaved and mostly eager to please.
He knows what a plate looks like and has some nose on the table issues. Nothing too bad thankfully,
Poor thing, it's been a very stressful day for him. He had to say goodbye to his family then met a bunch of other people the went for a long car ride which let him out in a whole new world.
A yard, another dog, rabbits, and birds, squirrels chittering in the trees and smells of coyotes and bears if only dim smells from these critters last pass through the area.
We took him and the S dog for a short walk. We covered little distance but did it taking a long time. The Foster child stopped every three paces to sniff something new.
Now that he's napping finally, I can get a better assessment of his coat and skin. In general he's pretty healthy. His coat is very dry. He likes being brushed and seems bright and eager to please.
Time will tell but I think he's basically in good shape and well behaved.
Now if I can only get him over his fear of stairs….