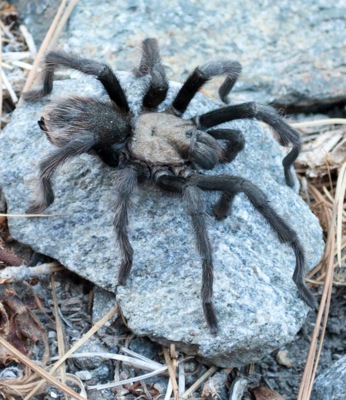 This is a nice Tarantula. He just walked across my drive way like nobodies business. I ran in and grabbed the camera then caught up with him in front of the neighbors driveway
They're indigenous to the area but we don't see them very often. In fact this is only the second tarantula I've seen in the wild since I moved here in 1991.
I didn't want to scare it or cause it to feel threatened.
He froze when I started taking pictures and while he didn't seem to be threatened he was justifiably cautious. I snapped only a few pictures, then let him be on his way.
This critter had someplace to be, it was moving pretty darn fast, but it wasn't running.
After looking up tarantulas native to southern California on the web it turns out that there are only 2 species in this area.
This is an example of the Black Tarantula (Aphonopelma reversum) and this one is probably a male. He's also a big boy the specs say his body is usually about 1 inch or so, this dude is double that.
I'll have to keep my eyes open for the other species which I've never seen. It's and I can't help but chuckle since this is California… The Blond Tarantula (Aphonopelma chalcodes) They usually show up a couple months after the Black Tarantulas. But as I said, I've never seen one.
This guy has probably become sexually mature and is doing what males do… Looking for a mate.
Unfortunately for him, if he finds a mate she's likely to kill him then eat him. after sex of course…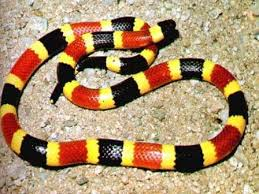 Wow talk about a harsh punishment for not pleasing your partner!
This is one of the reasons I like living here. You never know what you're likely to encounter, and more often than not the encounters can be very cool and no-one gets hurt.
There are of course exceptions to every rule but thus far my encounters have been of the peaceful variety I hope that continues to be the trend.
My pride was hurt once when a California King Snake treed me on top of my motorcycle.
Being raised in the South, we were taught to fear the Coral Snake. The California King mimics the color pattern of the Coral Snake and to a Southern boy like myself seeing a certain combination of colors moving out of the corner of my eye will cause a dramatic leap to the top of anything nearby.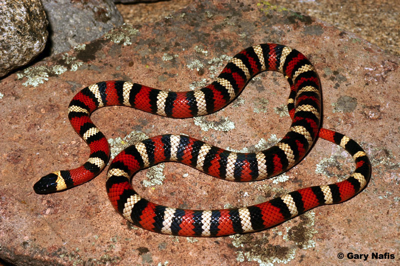 My so called friends had a big laugh, and honestly I laughed too once I processed the following; I'm above 6000 ft, In California, and that snake is WAY too big to be a Coral snake.
In fact, that Kingsnake lived in my yard for many years, and I saw it often while gardening.
I think it was seeing if it could make me jump again, probably had a mean streak or a great sense of humor.
The 1st picture is of a Coral Snake. (Venomous)
The 2nd picture is of a California Mountain Kingsnake (Non Venomous)
Yes they're very different, but when assessing the danger factor if you assume the snake is poisonous odds are you're going to live!
The California Kingsnake comes in a bewildering variety of colors.
After doing some research, I found out that the California Mountain Kingsnake appears to mimic the Arizona Coral Snake.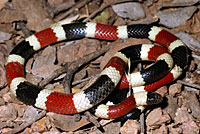 The last photo shows an Arizona Coral snake. Like it's Southern cousin, it's very poisonous They are related to cobras and their venom is a neurotoxin.
Which is why, when it comes to snakes, it's always a good idea to leave them be.