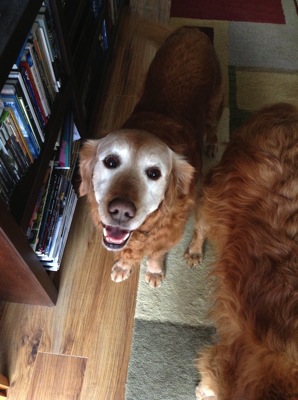 As I mentioned elsewhere, I've been dealing with a very sick dog.
Thursday night the poor guy started regular seizures about every 3 to 4 hours. With each seizure he got weaker, and lost more control over his legs and body, in the end he was completely blind.
Whatever was going on was major. Just as we panic when our bodies betray us, so do dogs.
In the end he was panicked so much that we couldn't get him to calm down before the next seizure hit.
The other dog was frightened too. His health is good but he knew something was seriously wrong with his buddy.
Friday morning the seizures were coming faster and we knew it was the end, and time to let him go.
The vet did a quick exam to see if there was anything to be done aside from euthanasia.
The opinion of the Vet and the Technician who've know the dogs all their lives was it was time. All that could be done, had been done and while the dog was between seizures and relatively calm & comfortable it was best to do him a mercy.
So my family is down to three.
I've been spending a lot of time on the floor and setting aside whatever I'm doing to reassure and comfort the remaining dog.
They escaped an abusive household together 9 years ago. They wouldn't be separated at the animal shelter (They'd both stop eating) We adopted them both, and never separated them.
I've been watching carefully to make sure that S. (I'm not using his full name. I'd prefer he barked at you if he doesn't know you) is eating properly and not getting too depressed.
He is boycotting all the dog cushions. I think it's because we were having to rotate the cushions and their covers after each seizure and "His" cushion got used repeatedly by our sick guy.
Hopefully that will pass & he'll decide it's ok to use the soft cushions instead of the floor.
He doesn't seem to be looking for his buddy per se, but he's acting a little lonely.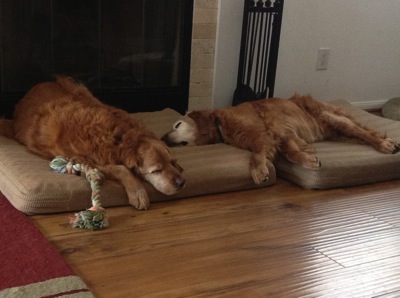 I scheduled a quick grooming for him Friday afternoon, (He really likes the groomer) that took his mind off all that had been going on Thursday evening & Friday morning.
When we got home, he was confused at the absence of his friend. Eventually he laid down on a cool spot and got some deep restful sleep.
Eventually, I laid down on the bed, within a few minutes I was being nuzzled then there was a big sigh as he snuggled next to my chest. He's always done this when he's upset, sick, or hurt. We slept like that for about 3 hours.
---
Several years ago after the fire here at the house, these two dogs pulled us through some really dark and tough times.
One of the things that they helped us with was priorities. Or responsibilities to them always came first. In return, they gave us boundless love and attention. Sometimes it was as simple as nuzzling a foot, or leaping on the bed in the morning with a toy that got dropped on my head. Their needs focused our attention on what was important.
All the rest of it was just noise.
I find myself in that same space. S. needs attention and concern. We've been walking in the mornings during the past couple of weeks (we used to walk in the afternoons with his buddy.) He's enjoying the exercise, as am I.
Over the past weeks he'd accepted that his buddy couldn't be with us on these outings.
He forgot this morning that B. wasn't here at all and went looking for him in the yard and all the rooms of the house. You could almost see the realization as S. couldn't find B.
S. had gotten in the habit of coming back from a walk and then telling B. all about it.
It was one of those 'gotcha' moments that bring a tear to your eye.
I just cuddled S. and told him it was OK, He's a good boy.
The telltale to his being upset and depressed, was that he didn't want his after walk treat.
We'll all get through this it's just going to take time.
B., you were a great dog, I miss you.(Yes, even your snoring like a freight train.) I pray that you're playing with other dogs somewhere in a sunlit grassy field.
Here are a couple of PDFs friends have sent with loving, comforting, emails. B. was a sweet dog and even those who were afraid of larger dogs loved him.