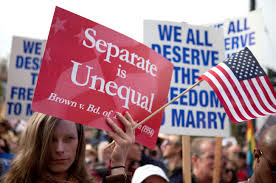 The Supreme Court of the United States today gutted DOMA and effectively said that Proposition 8 here in California was unconstitutional, by allowing the 9th circuit courts ruling to stand.
This is a good day.
At the same time we know that the well funded, fundamentalists will begin their campaigns to take away the rights and privileges that have been restored to the GLBT community.

Today is a sad for me personally.
Today marks the Fifth anniversary of a friends death.
John would have been leading a band of happy folks over the SCOTUS ruling. I have this weird image of him playing his trumpet or his sax like the pied piper. Wait, he also played the flute yeah that's what he'd be playing.
I found out that he played the flute one Summer afternoon when he was on leave from the Marines. He was sitting on my back patio in a pair of olive shorts just noodling with some classical piece of music. He looked up as I came in from work and morphed the classical piece into the riff from Jethro Tull's Aqualung. Then he moved on to a medley from Songs from the Wood.
He did it so seamlessly that I never noticed the transition. He gave me a gift that day. He perked up my mood and put a smile on my face even though it had been a really BAD day at work.
I still smile when I hear music form those albums because I see John sitting on the patio relaxed and happy, playing his flute for an audience of one.
Five years on, and I still miss him. Every once in a while I'll hear someone whose voice sounds like his. Now though I smile instead of feeling blue.
John wouldn't want me to be sad, especially not with the news today. The image of him leading a group of smiling people his flute sparkling in the sunshine does put a smile on my face. There are times when I wonder if he somehow puts funny images in my head to cheer me up on his birthday and on this date.
Yeah, I get misty-eyed thinking about him, but I can't stay blue. An endless line of memories and laughs we had flits through my head and I end up smiling & feeling happy in spite of myself.
So John, in honor of you…
I'm going to smile, be happy and drink a toast to the good news. Then I'll toast to you, our friendship and loving each other like brothers.
Your light and joy aren't forgotten and you have a place in my heart forever.