I'm really disturbed by the California legislators.
Recently, they've approved several measures regarding guns and ammunition. Individually these measures are innocuous but when you pull back and look at these measures as a tapestry, Then the picture is chilling.
First I think many of us would agree that the California legislators absolutely want to deprive Californians of their 2nd amendment rights.
However, they know that an outright assault on the 2nd amendment of the United States Constitution would fail.
Regardless of how stupid you might think the legislators are, they're not stupid at all. (Always respect your enemy. Never underestimate their ability, doing so will cause you to make mistakes.)
They're very cleverly creating a situation where you can own a gun. But you can't afford to shoot it.
With the microstamping law, you can't even buy a gun in California unless manufacturers decide to incorporate the microstamping technology.
Then there's this lovely set of laws they're OKing;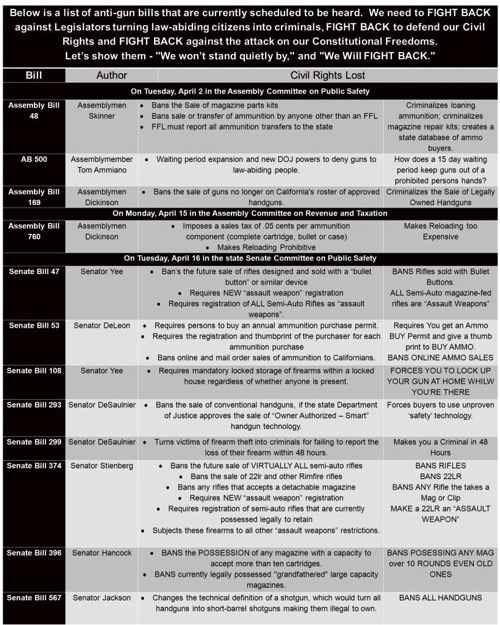 Ladies & Gentlemen, this is how it ends. Our rights stripped from us in the legal wrangling of politicians.
These politicians are using State Law to circumvent the constitutional protection that the 2nd amendment confers upon US Citizens.
If these Bills and others like them are signed into law, California will become a gun free zone just like Chicago and Washington DC. Which means we can reasonably expect to see increasing crime until it reaches the same levels as Chicago and DC.
Is this what you want?
There have been at least two research firms that confirmed Crime Rates drop as Gun Ownership rises.  National Institute of Justice statistics show that over at least the past decade gun crimes are generally dropping not increasing.
One very interesting statistic is that 40% of the inmates who'd committed a crime with a gun stated they'd gotten their gun from an illegal source.
Why then is the Federal government and California State government continuing to pursue laws aimed at restricting the 2nd Amendment?
That's the question to ask.
Read the statistics for yourself. I realize if you're a reader of this blog I'm probably preaching to the choir. But if you can direct  other people to this blog then maybe we can educate them before bills like those above become laws.
Remember, other states look at what California does before writing their own laws.
Just Sayin.