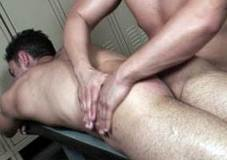 I was having a massage a while back.
It was a very nice massage and I was warm, comfortable and nicely relaxed. These things are after all what you want as the outcome of a massage, right?
The masseur was working on my chest and then moved South. I sighed contentedly. Further South then a nice long sweeping motion over my hip bones and down onto my thighs. Nice!!!
The focus shifted to my shins and relaxing those nasty little tight muscles that lie right along the shinbone. I've been doing a lot of walking lately, I was blissed out.
The focus moved to the other leg and I was starting to drift to sleep. Another long sweep up my legs and both hands begin a nice massaging motion on my junk.
Whoa.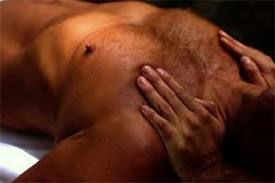 Not what I'd expected. The masseur was good looking and also naked.
When I'm getting a massage I prefer that both of us be naked. It's just a lot less annoying than the rustling sound of fabric or the weird tickling effect of the hem of a shirt or shorts drifting across me. I hate that whole draping thing too, It's pointless and distracting. Every time the drape has to be moved, it grounds me back in my body and interferes with my relaxation. After all I'm paying for a massage… it's supposed to be all about me!!!
Having someone massaging my junk is also… well… nice yes, but distracting too.
What happened next I couldn't have imagined in my wildest dreams.
I said, "That's not necessary, but thank you."
SCREEEEECH!!!! Say What!?!?!
My brain and body Both looked (Metaphorically) at my mind like Who the hell are you? Where is the pig that's supposed to be calling the shots?
Don't get me wrong, It felt great.
But if I'm going to have sex, I want it to be about having sex, not that the other person feels they're obligated.
I'd have enjoyed having real sex with this masseur.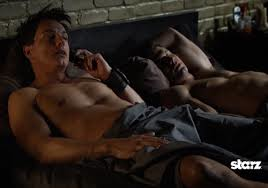 I think we'd have had a rocking good time but a hand job… on the clock… that's not really all that relaxing or exciting.
Maybe I'm jaded, maybe I'm afraid that I'm not going to measure up? (Just how many other hand jobs have been performed today?) Maybe I've just been there done that, once too often.
I've gotten to the age where hurried sex with someone I don't know isn't something I particularly enjoy.
Now a room full of people… that's a little different and seriously hot! Uhhh excuse me….
Ok I'm back where was I? Oh yeah hurried sex with a stranger…
Weird huh?
That's not to say that I would turn down a frenzied blowjob from a friend in an odd place. But in general I want to get there slowly and enjoy the journey.
Today, I was reading the blog a buddy of mine writes and was intrigued to see that he'd written something very similar. Coincidentally we're both the same age and have been around the block a few times. He wrote what I've only been thinking about.
Maybe this is a function of aging. I've become more discerning and picky in recent years. Perhaps we all just get to the point that who we're getting naked with is more important than being naked with someone trying to get our rocks off.
Maybe I'm getting less inhibited about actually saying what I want or don't want.
God helps us all if that's the case.