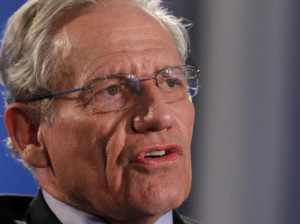 … How many more lies the Obama administration is selling and just how compromised the media is when it comes to the Obama White House.
This morning I caught a couple of Tweets about Bob Woodward being under attack from the Media and one tweet said he'd been threatened by the White House over a story.
I thought Whoa!!!! Something is up.
In this case Woodward is at the center of a journalistic feeding frenzy of his so called colleagues.Woodward is famous for breaking the Watergate story and I've always enjoyed his writing, so I started trying to track down what the whole story is.
Mr. Woodward's crime is that he pointed out, the Emperor has no clothes.
He caught the White House red handed in a bald lie. Then he published what he found.
In this case contrary to the White House spin, Which has been saying  that Congress and specifically the Republicans are responsible for the upcoming sequester
According to Woodward, the truth is that the Sequester was suggested and approved by the Obama administration.
This isn't the first time Mr. Woodward has caught the White House in a lie… I seem to recall President Nixon resigning as a direct result of a Woodward story. At least Mr. Woodward is non partisan!
The whole article from The Washington Post is Here.
An interesting analysis of the feeding frenzy and comments from the "Balanced Media" can be found on Breitbart Here.
The upcoming cuts, according to Breitbart represent only 2% of the Federal budget.
Yet the Federal government is asking it's employees to take furlough days that will account for a loss in their paychecks of as much as 5%.
I'm a "whats good for the goose is good for the gander kind of guy" and think if the Government expects their employees to accept a 5% cut in pay, then the government shouldn't be bitching about a lousy 2% loss in theirs.
It's a foregone conclusion that the people furloughed are folks can least afford a 5% pay cut.
They'll be used as poster children demonstrating the evil that the bastard Republicans have caused. It will be the secretaries, clerks, phone operators, and maintenance people.
The management and the politicians themselves will not be losing at all.
Why would the furloughs be concentrated in those areas? So that the American people have the false impression that the sequester really is doing something that's hurting average Americans.
I'd bet you that 2% of the Federal budget is toilet paper and office supplies. ( I might lose that bet but I wouldn't be surprised with all the waste in govt. if the cost was that high. I'm sure they're using $10 rolls of TP in Congress.)
Unfortunately, the story has become Woodward, instead of the lies and misrepresentations from the White House.
According to this NPR piece  Woodward has described a contentious conversation he had with a White House aide wherein the aide yelled at Woodward for a half hour, then followed up with an "Apology" email that said, "You'll regret staking out that claim".
Woodward said, "I mean, it makes me very uncomfortable to have the White House telling reporters, you're going to regret doing something that you believe in,".
And he's right.
It may be overstating it to say that this was a direct threat from the White House with the full backing of the President.
But in times like these, when the President can make you a terrorist by simply calling you a terrorist, and when your travel can be impeded because your name or someone with a similar name appears on a no-fly list.
Woodward's discomfort may have more basis in fact than paranoia.
I think it's very unfortunate that the real story has been eclipsed by the sidebar.
On the positive side of the scale is that we clearly can see just how deep the color yellow of "Yellow journalism" in America has become.
I find myself asking if this had been a Bush Administration gaffe… Had Mr. Woodward caught former President Bush in a similar lie, would Mr. Woodward have been a hero?
Sadly, I think the answer is that he'd have been a media darling.
President Obama and his administration are just as likely to lie, misrepresent, and abuse power as any other administration.
The old saying, "Power corrupts…" is just as applicable to a Black President as it is to a White one.
I  often find myself asking, Is President Obama getting special treatment because of racism? Is the media still laboring under some misguided guilt that an African American needs "Special" treatment?
If the people who are supposed to be the publics watchdogs are in fact spinning the news, if they're reporting only one side of the Obama Presidency – that President Obama can do no wrong… We lose objectivity.
With that loss of objectivity we also lose our ability to question, formulate, or even express differing opinions.
It's ironic as hell that the first amendment could in fact be undone by the very people operating most under it's protections. Bundled in that irony is that journalists will devour their own for exercising freedom of speech.