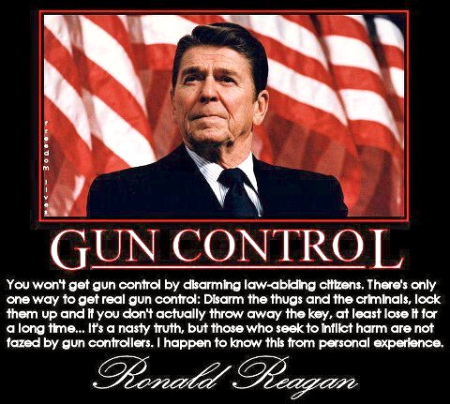 I couldn't resist the Reagan poster. But you have to admit if anyone aside from James Brady could speak to the subject it's Reagan.
CBSNews Is reporting the New York paper responsible for publishing a map showing the addresses of registered gun owners in two NY counties has added to their grandstanding by hiring armed security guards to protect one of their offices.
The so called "journalists" are kinda missing the point.
I love the irony in that they've turned to armed security to protect them.
Registered gun owners are law abiding citizens which by default means that these people aren't likely to go to the newspaper to exact revenge.
Law abiding citizens are going to choose weapons of mass destruction…. LAWYERS!
The Lawyers will be far more devastating to the newspaper than anyone with a gun.
If I were one of the people affected I'd be seriously pissed off. Not because now the world knows I have guns, but because of the invasion of privacy for no good purpose other than headlines.
Essentially this newspaper has stigmatized the gun owners of these counties. What they've done is tried to equate gun owners to sex offenders. "Who are the gun owners in your neighborhood?", Who are the sex offenders in your neighborhood?"
I'm sure that the editors of the newspaper have gotten some really negative mail and deservedly so.
The gun owners affected have committed no crime, they've done absolutely nothing that should have resulted in the forfeiture of their privacy and yet… They've lost their privacy. Their homes may be targeted for potential break-ins by criminals who would like to steal guns and resell them to other criminals.
Now the newspaper is trying to look like the victim, and spin the story that they're scared of the gun owners.
I have a few things to say to that;
1 Buck up. You published the piece, you must have thought about the invasion of privacy you were enabling and if you didn't well you're not very good journalists. You need to accept the consequences and responsibility for your actions.

2 You have nothing to fear from the registered gun owners. You need to fear their attorneys.

3 In the years to come you need to fear the criminal element that breaks into these houses and manages to steal the weapons. They're the people that are going to mug you, rape you, and shoot you. The blood of innocent victims, and the blood of the home owners occupying these houses will be on your hands.
In my opinion, a single injury or god forbid a death caused because a criminal targeted these homes should result in prosecution of the journalists involved in the story.
I'm for freedom of the press, but with that freedom also comes responsibility.
There's a quote from one of the Star Trek movies. "Just because we can do a thing, it doesn't necessarily follow that we should do a thing."
Yes, it wasn't said by a statesman, or a scientist, or a politician. But it's nonetheless a wonderful cautionary statement.
I suspect that the movie quote is based on something Robert Oppenheimer said;
"When you see something that is technically sweet, you go ahead and do it and you argue about what to do about it only after you have had your technical success. That is the way it was with the atomic bomb. – J. Robert Oppenheimer"
The point is, sometimes it's important to take a step back to look beyond your ability to act and decide if the ends are really justified.
How many wars, how much harm would have been avoided if people had simply considered the ramifications of their actions?