I love the SPAMBOT Postings (I had to stop reading political stuff)
So lately rather than immediately deleting the SPAM that people try to post to this blog, I've been reading it.
You've got to be kidding!!!
Do any of these things work at all?
These comments have all kinds of flowery speech and it's obvious that some of them have been written by translation software.
Here's a few examples;
I really enjoy this theme youve got going on on your site. What is the name of the design by the way? I was thinking of using this style for the website I am going to construct for my class room project.

It is rare for me to discover something on the cyberspace that is as entertaining and fascinating as what youve got here. Your page is sweet, your graphics are outstanding, and whats more, you use reference that are relevant to what you are talking about. Youre definitely one in a million, great job!

Hello There. I found your blog using msn. This is a really well written article. I will be sure to bookmark it and return to read more of your useful information. Thanks for the post. I will certainly comeback.
Don't get me wrong, I like compliments as much as the next person. But, I don't like empty compliments that are supposed to make me approve a comment just so the commenter can "Build Links" or redirect someone to their sales site.
All of the above comments are linked to sales sites. Things like Gucci knock off bags, or shoes, or whatever Chinese knockoff someone thinks they can entice someone with.
The really scary part is that some of these links track to websites that are full of malware. Many of these sites are in foreign countries, The largest majority appear to be originating from Asia, at least that's as far as I wanted to track them.
These messages come from SPAMBOTS, they apparently scan for new blog entries and then post a comment. If you're not paying attention you'll approve the comment and potentially give the spammer distribution of their website address and god forbid one of your readers will click on the link and it's a malware website.
These comments end up in my deletion queue immediately. But sometimes they're funny.
Then there are the tons of email SPAM I get.
RevoIution – home business (Followed by a web address that appears to be hosted in Amsterdam.)

Learn how to turn successful at home (Associated with a website hosted in France)

Up to $2,500 NOW. Bad or NO Credit OK. (This one actually came from an American Website)

The BIGGEST Auto Clearance of 2012 Is On NOW. LAST CHANCE To Save THOUSANDS! (This one comes from the same site)
Then there's my ALL TIME favorite! This one sets off the Virus detection every single time!
From: UPS Information

Subject: Delivery information # Error ID3122
Usually in the preview you'll see something like;
I did disapprove of your following me here, for you know that
This one is a malware /virus laden email that originates on a juno site apparently in Russia.
I get about 10 of these a week on an ancient yahoo mail account. What's interesting about this one is the rambling text that's embedded in the message. It looks like random clippings from some kind of story / literary website.
I can only assume that it's a method to evade the spam detection software many servers and email programs use.
Then there are the SPAM Faxes;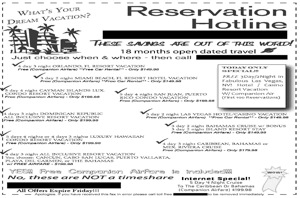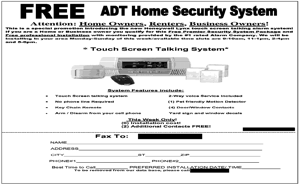 Tell me does anyone actually call these people?
I've set my fax machine to route anything it doesn't recognize to a directory on my server. That way I'm not wasting ink printing stuff that shouldn't be coming in to my fax machine unsolicited.
For a while, I dutifully reported junk faxes to the appropriate government authorities, but the faxes kept coming in. After a while I concluded that either the government authorities couldn't care less or… they were simply overwhelmed. I tried setting up an auto forwarding to the proper government authorities but they told me that would be spamming them.
Now I purge junk email, and faxes about every 3 months. That's is exactly what I'm doing today and why you have the "JOY" of this random sampling of crap.
Just remember… YOU Came to this blog, I didn't send it to you!
As always be careful opening emails, and make sure that your anti-virus software is up to date.
Have a great day.
---
Apparently, the SPAMBOTS loved this blog post. Since it was published, there have been a 127 spam comments attached to this one post. Who'd have thought…