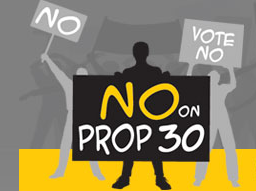 Here we are again.
Proposition 30 in California is nothing short of yet another tax hike designed to close a budget shortfall caused by the incredible mis-spending in Sacramento.
One of the talking points of this proposition is
Preventing Deep School Cuts,
However, the very first line on their web site says "After Years of cuts, California's Schools, Universities, and local public safety services are at the breaking point."
So which is it?
Are they saying that they've been cutting from the schools to fund other programs for years and have depleted the funds and NOW they need to raise taxes to cover the shortfall that they created?
Is it just me or does this make no damn sense?
The Sacramento Politicians want to raise the sales tax and… wait for it… Impose more taxes on the rich.
You know the rich… those evil bastards!
The ones who have been taking money from the schools (not), the wealthy who've not been paying their share of taxes.
Those successful motherfuckers who've made all that money and who are making donations to charities or starting charities that support research or the arts, or the environment.
The bastards that are building new larger buildings for their filthy money making companies. So that they can employ yet MORE filthy workers and keep the construction businesses busy.
YEAH! Those rancid thundercunt FUCKS!!!
When you think about it that way… raising taxes on just the wealthy starts to seem a little stupid.
I'm not saying that all business people or wealthy people are saints… in fact a lot of them are cut throat bastards. BUT you really have to remember that without them we're all pushing tacos at the local taco stand for 1.98 an hour.
I've said it before, the wealthy have the means to bail out.
They can leave this state and this country any time they want to.
What will Sacramento do if the wealthy leave California and take their businesses with them?
How long would it be before someone puts a proposition together to authorize a sign saying "Will the last educated person please shutdown San Onofre before you leave?"
And this isn't even the worst of it…
The politicians are going to THE CHILDREN Again. Essentially, they're attempting to hold every single child in the state hostage to force the people of California to vote to raise taxes instead of responsibly spending the money California currently receives in revenue.
If you're interested… Head on over to CalTax.org. This is a watchdog organization that researches how California spends it's tax payers money. On that site is an interesting report that details the waste between 2000 and 2010. This is very interesting reading. It's doubtful that anything in California's spending pattern has changed.
Instead of raising taxes and threatening the school system… Why doesn't Sacramento clean up their spending before going back to the taxpayer?
The document is linked in PDF here.
201003_CalTaxResearchBulletin_Decade of Waste.pdf
After reading this… If you still think that these politicians really need more of our money you go right ahead and vote for Prop 30.
The rest of us will be voting no…
After all how many times can Sacramento expect us to fall for those scare tactics? Especially when in the past we have fallen for it and found out well after the fact that the money allocated to the schools got cut anyway…
Tell Sacramento to KISS OUR COLLECTIVE ASS and vote a resounding NO to every single measure that seeks to raise taxes!
Force Sacramento to actually be responsible for their spending.