This society is increasingly becoming what can only be characterized as nothing less than a Theocracy.
Our politicians are pandering to this small group of venomous, treasonous, despicable people, at the exclusion of more mainstream centrist positions.
Venomous due to the vitriol spewing from their mouths in a never ending stream.

Treasonous because they seek to create exceptions in the constitution and bill of rights that exclude specific groups.

Despicable because they seek to hide the true nature of freedom from many today, and all of our children and grand children tomorrow.
And while many of you sit thinking "I'm not a Woman, Single, or Gay, this doesn't matter to me"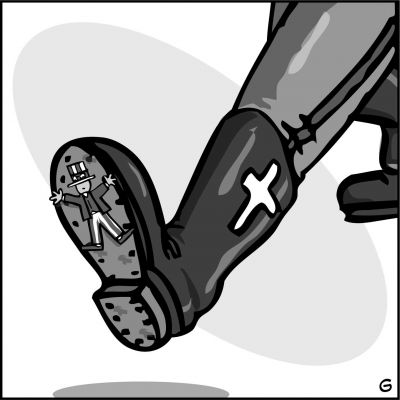 This Theocracy isn't just about oppressing one group of people. This group is about oppressing everyone with differing beliefs.
Take a very good hard look at the recent spate of proposed reproductive controls. Women were in the NOT TOO distant past considered chattel. If just a few of these reproductive controls gain ground due to religious fervor, then we could easily be on the slippery slope to "the good 'ol days again"
What happens when for religious reasons your company refuses to allow your insurance company to pay for birth control?Your wife ends up pregnant at least once every 18 months.
How about refusing to rent to you because you're not a member of their church in good standing? "Oh, you're going to have to rent from the Lutheran down the road a piece"
Removing anti-discrimination protection only works if every single member of a community is treated equally AND enjoys equal protection under existing law.
We know that isn't the norm. Differing ethnicities, genders, cultures and sexual orientations fought to put anti-discrimination law on the books BECAUSE they didn't enjoy equal protection.
A womans right to choose. A womans right to vote. African Americans right to marry. A single womans right to rent or own property. A gay persons right to live un-molested. All these rights came about because someone fought to codify them in law. Technically these rights existed already but abuse and narrowing definitions of the Class that enjoyed these freedoms forced legal precedents that resulted in law that specifically and unequivocally said for example; "A Woman may VOTE."
Right now a brutal, cruel Theocracy is trying to undermine the freedoms that we all are entitled to.
Kansas and Arizona are two states where this Theocracy is winning
Few people ever think about how discriminatory laws might be used to affect them until they find themselves out of a job because their boss saw a picture of their 3rd boyfriend or girlfriend in a month on Facebook.
How about being fired because your girlfriend tweets "God, he was such a gentle lover, despite his large size, I sooo want to sleep with him again."
Guess what? You've both sinned in the eyes of the High Minded religious wonders.
You've committed Adultery! The Taliban in Afghanistan will stone a woman for that. That's after all, the Old Testament punishment right? "The wages of sin is death"
The point I'm belaboring is this:
When you allow "Moral" judgements from Religion to dictate the law of the land. You've destroyed everything that the founding fathers sought to create.
It wasn't freedom of religion… It was freedom FROM Religion if that is your choice.
Thanks to Michael in Norfolk for the priceless image of the boot with Uncle Sam.