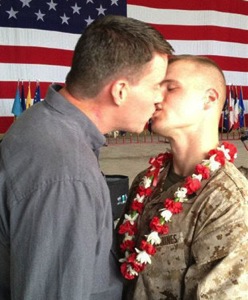 I think it's freaking neat!
By now most everyone has seen the photos of the Marine arriving home from Camp Leatherneck and kissing his boyfriend. For those of you that haven't seen what all the hubub is about I'm including the
That the photos went viral is surprising but then again it's "new" in the public eye.
I've been cruising through the various blogs and news reports and smiling that the majority of comments are pretty positive. After all who wouldn't want to be greeted with passion, love, and joy by their loved one after 6 months apart?
The negative comments are surprisingly venomous but thankfully few.
What is astounding is that some people have a tough time differentiating between religious dogma and the law.
In a few instances I've been unable to keep my mouth shut and have added to the comment stream.
One of my comments is as follows.
To those of you who've described this homecoming as "nauseating, sick, degrading, they should be arrested, he should be thrown out of the Marines" etc.

You do realize you're essentially coming down on the side of oppression don't you?

Why would you deny two consenting adults their personal "pursuit of life, liberty, and happiness" as described in the Declaration of Independence?

Have these two adults done anything to deny you your own pursuit of the same? I think not. One of them is willingly and actively working to protect those very rights for you.

Perhaps you should think about that before you seek to deny freedoms from your fellow citizens.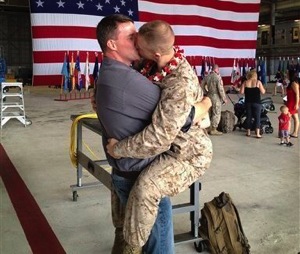 Here is a link to one of the news reports from The Miami Herald. This one has an active comments thread, I've been checking on during the day.
Joe My god has a similar story. As does Rex Wockner.
I'm sure that in a fairly short time this will be as commonplace as any other homecoming scene.
For the moment… It's generating a heck of a media tempest.
To Dalan Wells and Brandon Morgan, if they ever stumble upon my little patch of the web…
Well Done guys. Welcome home Brandon. I hope you both have all the happiness you deserve.
Thank you Brandon for defending me and thank you Dalan for giving Brandon the homecoming he deserved.
Now both of you… GO PLAY!